Rustic, Yet Well-Equipped
Camp Hancock is a small rustic camp nestled in a charming little valley near Clarno, Oregon. Our facility is remote, serene, rustic, and peaceful. Cell phones won't work out here, however, we do have WiFi. The amenities at Hancock are well-cared for and well-used. Safety, fun, and respect for ourselves, each other, and the environment are our top priorities.
OMSI respects, values and celebrates the unique attributes, characteristics and perspectives that make each person who they are. We believe that we will be successful in accomplishing our mission and vision when we seek out and respond to diversity of participation, thought and action. We will work to dismantle barriers to equity and access to the experiences OMSI provides and to create welcoming environments and conditions where all people can reach their full potential. We lead with race.
With open hearts and open minds, we respect, value, and celebrate all the things that make each person who they are. We don't want anyone to feel left out or like they don't belong. We strive to make this place a place where you can be you; a place where you don't have to be anyone else. No judgment here – it's our job to make certain everyone feels safe and empowered to be themselves.
We are proud to be working with TransActive in Portland, Empowering Access out of Bend, and many others to improve our facility and continue to provide more physical access and mobility around camp. We provide training and professional development to our staff on equity and inclusion principles, as well as training in mental health first aid.
Admittedly, we have a long way to go! However, we are always open to learning more, doing more, listening better, finding creative solutions to problems, and creating meaningful change. We are nearly finished with the second draft of our master plan, which includes many facility improvements such as wheelchair-accessible pathways, bridges, smooth transitions at entrances and exits to buildings, gender-inclusive and accessible restrooms, and multi-cultural/multi-lingual signage. We hope to go beyond ADA compliance to ensure access for everyone.
Can you accommodate non-binary, non-gender conforming, trans, and other LGBTQ youth?
Yes! We can, and we have successfully done so.
As is traditional in residential overnight camps, our site was designed to accommodate binary gender divisions in our living, restroom, and shower facilities. We realize our existing sleeping and hygiene areas present obstacles for the gender diverse and we are committed to respectfully minimizing those obstacles. Since each individual is different and has different needs, we encourage you to reach out if you have any specific questions or concerns. We appreciate any opportunity to speak directly with families about how we can work together to make the OMSI summer camp experience worry-free for everyone regardless of orientation, gender, or any other identity.
Is the facility wheelchair accessible?
Camp Hancock was built on a slight incline, and the terrain is uneven and rocky. We have an ADA-accessible cabin and restroom, and we are working towards incorporating wheelchair accessible paths throughout. Currently the grounds are covered with gravel to keep the dust and dirt at bay. We will work with group leaders and families to choose programs that will best meet the needs of all participants.
Offsite trails on the John Day Fossil Beds National Monument are also uneven and rocky, with a mix of easy to moderate hikes. Many hikes gain elevation, and can be anywhere from half a mile to three miles long. We are able to tailor which trails are used to accommodate the group. We tend to focus on ecological concepts, so any path chosen will be a rich experience for everyone.
Can I bring an animal to Camp Hancock?
Camp Hancock is not a place for pets. Service animals are permitted in all areas where guests are allowed. In keeping with the Americans with Disabilities Act, a service animal is defined as a dog that is trained to do work or perform tasks for the benefit of an individual with a disability (providing emotional support or deterring crime are not considered qualifying tasks). Except under special conditions, service animals must be restrained while at Camp Hancock.
Can I bring my RV/travel trailer?
Parking a travel trailer, mobile home, or RV on property needs to be approved in advance by the site manager. Contact us if you are interested in exploring that option, and we'll be happy to talk through it.
The Land Where We Live, Work & Play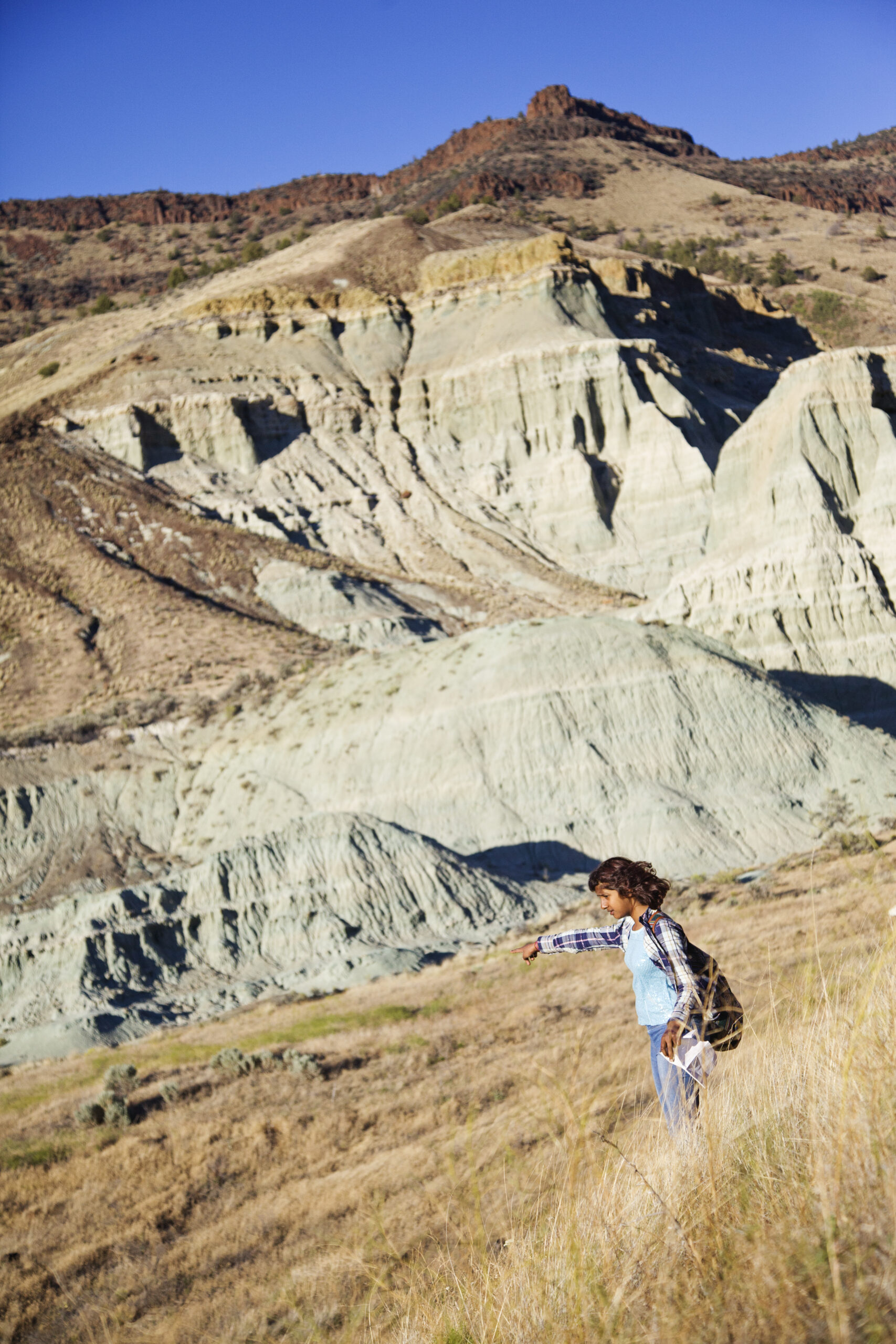 Let us remember, honor, and acknowledge the spiritual connection Indigenous people have to the land and how historically their traditional knowledge has been excluded from the scientific community that OMSI participates in and contributes to.

Hancock Field Station, near the fossil beds in eastern Oregon, occupies the traditional homelands of the Tenino (tuh·ni·now) and the Northern Paiute (pie·yoot), and many other tribes (federally recognized or not); many of whom are now part of the Confederated Tribes of Warm Springs.
Camp Tour
Cabin Time in the Desert
We have three different sizes and styles of cabins. Some have twelve beds, others have eight, and the smallest have four. The cabins have mattresses, padded cement floors, doors and/or windows, electricity, and small heating units. The restrooms are a short walk from the cabins.
Where We Eat
Campers and staff eat meals together, "family style", in Berrie Hall and we pride ourselves on serving meals that are nutritious and homemade. At each meal we offer a supplemental salad/cereal/fruit bar. We can accommodate food allergies and most dietary restrictions.
Our New Accessible All-Gender Restroom
The restrooms are a short walk from the cabins and have hot and cold running water, toilets, showers, heat, and electricity. Each cabin area has a restroom/shower facility nearby, and our North Restroom has gone through a transformation making it accessible and gender-inclusive with private lockable stalls.
Where Learning and Adventure Meet
Everyone deserves the chance to learn new things in a safe, respectful, kind, and inclusive community. We weave in themes of adventure, science, exploration, and community into daily life and use an experiential, concept-based style of teaching that is effective, nurturing, inspiring, and memorable.
Recreation and Free Play
Volleyball, tetherball, basketball, reading, games, music, and arts and crafts are just a few of our choices for recreation and play time.
Central Meeting Space
Games, camp fire, orientation, classes, and relaxation time are just a few of the times we utilize our most common meeting place: The Bleachers!
Hancock Field Station was named for Alonso (Lon) W. Hancock, an amateur paleontologist who received national attention in 1942 when he made the discovery of a vertebrate fossil – a rhinoceros tooth – in the Eocene-age Clarno formation near the site of the present-day Hancock Field Station. He went on to unearth many other vertebrate fossils in the area, from alligators to prehistoric camels to three-toed horses.
Lon Hancock and his wife Berrie spent many summers leading young students on fossil expeditions in the Clarno area. In 1951, the Hancocks took fourteen campers and a volunteer staff for the first twelve-day summer camp under OMSI sponsorship. Since then, Hancock Field Station has grown from a tent camp into a modern, well-equipped environmental science education facility. Hancock Field Station welcomes about 3,000 guests annually.
Berrie Hall in the Early Days
Berrie Hall with Walls and Doors
Camp Hancock as a Tent Camp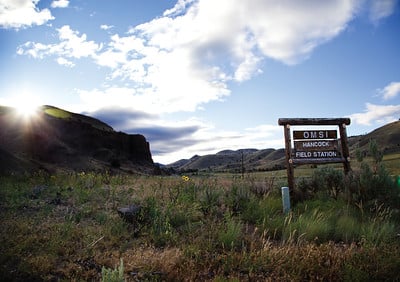 Interested in renting Camp Hancock? Host an event, retreat, or reunion. Contact us at Register@OMSI.edu to talk about availability and pricing.
Looking for waves and sea lions? Check out our other camp for more outdoor school and summer camp opportunities!