Hancock Field Station, uniquely situated within the Clarno Unit of the John Day Fossil Beds National Monument in north-central Oregon, has access to one of the world's most significant fossil sites, nearby canyons, archaeology sites, and the John Day River. In the nearby sedimentary rock formations, the fossil record unlocks the geological history and evolution of life and climate in Oregon. Juniper-sage grasslands provide excellent locations to study arid lands ecology. Clear night skies in late fall and early spring provide the opportunity for astronomy programming.
OMSI Outdoor School is specifically designed for students in grades 4 through 8, but participants of all grade levels are welcome.
Interested in OMSI Outdoor School at the coast? Learn more about Camp Gray!
Outdoor School for All
Our Philosophy
We believe everyone deserves the chance to be outdoors and learn new things in an inclusive way. OMSI Outdoors is commited working internally and with external partners make the changes needed to our site and program outdoor school is for everyone.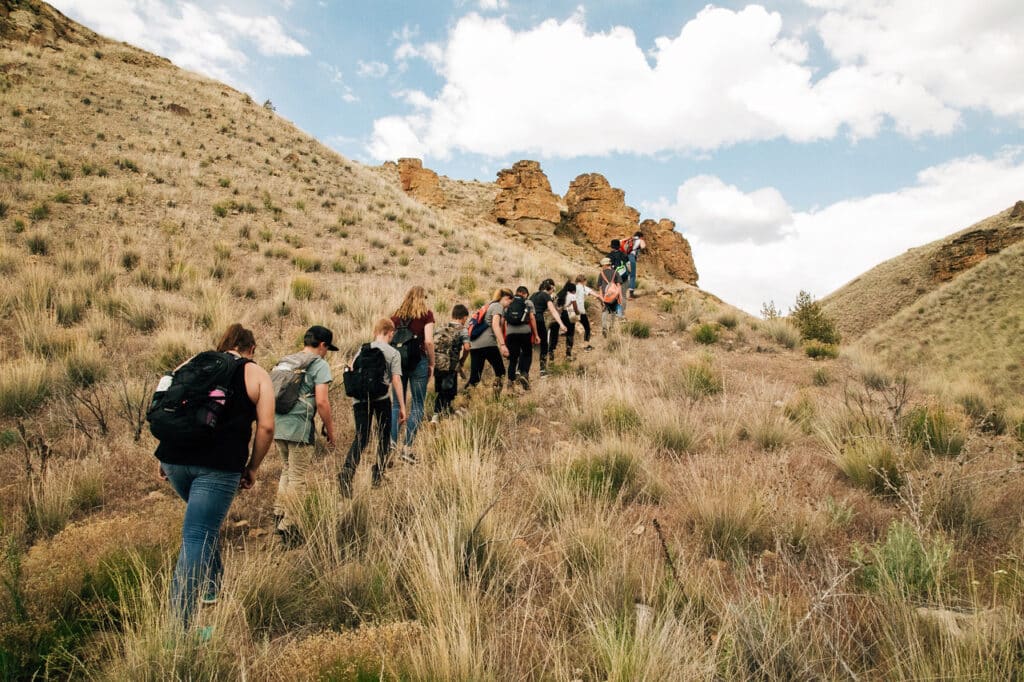 Financial Access
OMSI is committed to making science-fueled fun available for all in our community. Please inquire about our financial assistance programs for school and community programs. Please also explore the link below to Oregon State University Extension Outdoor Service School program for information about accessing state funding for outdoor school.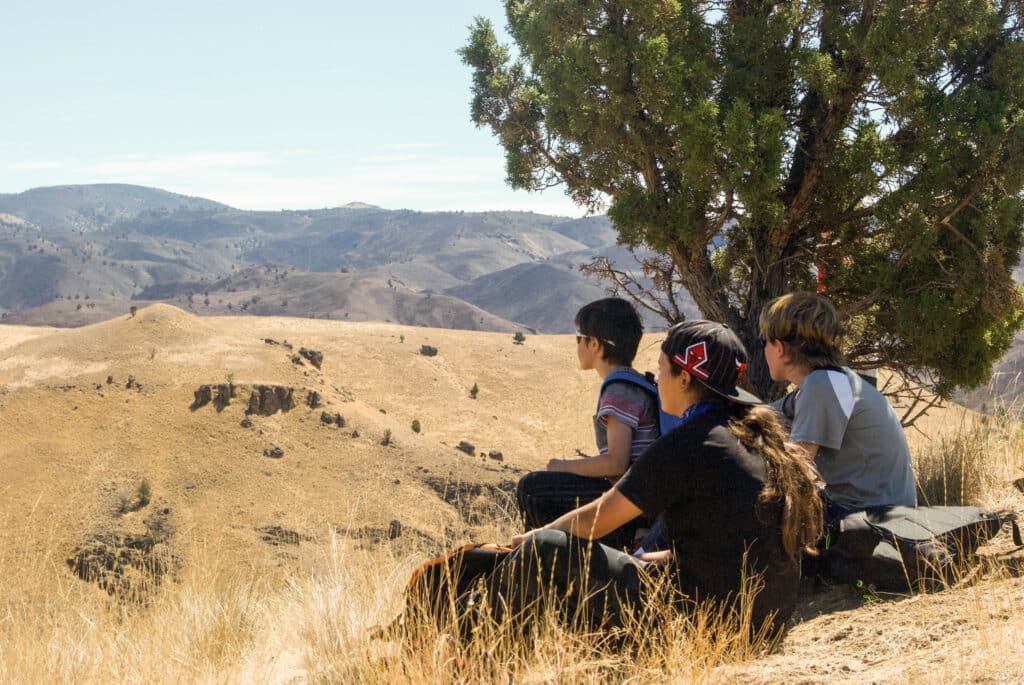 Accessibility at Camp Hancock
Our goal is to provide a safe and inclusive program for everyone. Support can range from adaptive gear such as an all-terrain or beach access wheelchairs or personnel such as an ASL translator. We work with school districts and the OSU Extension Service Outdoor School Program to support full participation in our programs.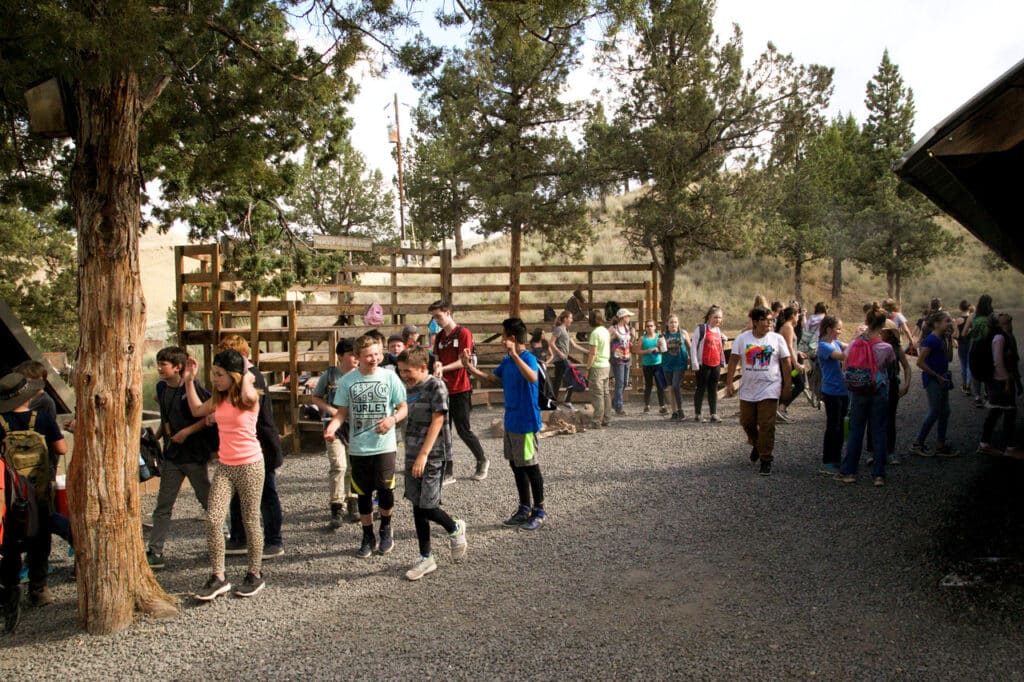 Program Highlights
OMSI program staff will work with you to create an experience tailored to your students' interests and your teaching goals.
Designed for 4th-8th Grades
Select from more than 20 different programs to design a unique outdoor experience for your students.
NGSS Standards Aligned
OMSI supports educators with NGSS requirements by providing corresponding programming for their students.
Small Group Instruction
Students are led by professional OMSI educators, in small groups of 15.
Access to a National Monument
Hancock programs utilize the trails in the John Day Fossil Beds National Monument daily.
Rustic and Well-Equipped
Cabins have electricity and heat, comfortable mattresses, and accessible restrooms nearby.
Delicious Home-Cooked Meals
Served family-style, we provide nutritious, balanced meals with options for everyone.
FAQ
Do you have cell phone reception and WiFi?
Hancock is nestled in a charming little canyon that is in a cellular dead-zone. WiFi is available to adults and OMSI staff. It's limited in bandwidth, however most are able to access email, messaging apps, and the occasional Zoom call.
Should I let my students have their phones?
They may *think* they cannot survive without, however, they should not have their phones at outdoor school. While accommodations and exceptions are welcome, an important part of the outdoor school experience is for students to gain confidence and independence, connect with their peers, and enjoy the unique opportunities we offer without technological distractions. Digital and film cameras are encouraged, and we urge families to not send anything they cannot replace.
Will our group have the facility to ourselves?
The maximum capacity at HFS is around 100 people.  Depending on the size of your group, there may be another group scheduled at the same time.  The groups will largely operate independently, while only sharing restrooms, meal-time facilities, and the occasional evening program.
What's a typical day like?
Days are packed full, from Field Study after breakfast to an Evening Program and Campfire after dinner. Students get hands-on experience with the science concepts of your choice, as well as the memories of exploring with their peers and their parents in the outdoors. Field Study lessons explore broad topics and Interest Group activities are shorter and designed to focus on a single topic. Peppered throughout the day, there is time for rest and relaxation in cabins, and free-play recreation time. Students will also get a chance to help out before and after meals with Kitchen Party (setting up and cleaning up meals) and Scrub Club (a quick tidy of the restrooms).
What are the cabins like?
We have three types of cabins, all A-Frame. The largest cabins sleep up to 12, the medium-sized cabins sleep up to 8, and the smaller ones sleep up to 4. They have twin mattresses, heat, electricity, and screened windows and/or doors. There's at least one outlet in each cabin. The restrooms are a short walk from the cabin areas.
Do the teachers need to stay in the cabins with the students?
At least one adult or high school counselor/leader needs to stay in the cabin overnight with students.  More than one person supervising the cabin is welcome, and generally a 1:7 ratio will be successful. There should always be supervision in the cabins when the students are in them. If you have at least one adult per cabin that is not a teacher, you may opt for a private teacher cabin (depending on availability). 
Can you accommodate vegan diets and food allergies? Can parents send food?
Absolutely! We strive to make sure there is a healthy and delicious option for everyone. We are able to provide for a number of dietary restrictions, including vegan, vegetarian, gluten-free, and dairy-free. We will accommodate mild to severe nut, egg, soy, wheat, and other food allergies. We can't guarantee that trace allergens are not present, and do our best to avoid cross-contamination. Parents can also send foods to supplement if they would like. We have a refrigerator for food storage (to keep it out of the cabins), and all participants have access to their food.
Should students bring money for the camp store?
Everyone will receive a free OMSI t-shirt on the final evening of their program. The camp store is available only to family camps and rental groups, so students don't need to bring any money.
What happens in case of emergency?
OMSI staff will go over emergency procedures with the groups on arrival day. Since the students are the responsibility of the school, one designated adult (usually the group leader) will need to be the person in charge of medications and all healthcare/emergency decisions. OMSI staff are trained in first aid and CPR, and are available to help in an advisory capacity. Groups should bring at least one vehicle with them for the duration of the program, and a land line is available in case of emergency.
Booking + Planning
Step 1: Book with Registration
Secure your dates and sign your contract with the OMSI Registration team.
Step 2: Select your program offerings
Once the contracts and deposits are submitted, the program supervisor will email the primary contact at least 8 weeks before arrival (early September dates are the exception) to start the planning process.
Step 3: Finalize logistics
Two weeks before arrival, the final details are confirmed. They include logisitcs like cabin assignments, group lists, and food notes.
Need Help Planning?
We know what it takes to coordinate groups of students—we've been doing it for years! Contact us to find answers and resources for painless planning.