Outdoor School can be a magical experience where you get to spend time outside learning and building community with your classmates. Parents, teachers, and sometimes high school-age leaders stay in the cabins and help lead everyone through the program. If your school is signed up for an overnight program at Camp Hancock, this page is for you!
OMSI respects, values and celebrates the unique attributes, characteristics and perspectives that make each person who they are. We believe that we will be successful in accomplishing our mission and vision when we seek out and respond to diversity of participation, thought and action. We will work to dismantle barriers to equity and access to the experiences OMSI provides and to create welcoming environments and conditions where all people can reach their full potential. We lead with race.
In keeping with this opening line of OMSI's equity statement, OMSI Outdoors uses and supports inclusive pronouns. OMSI Outdoors staff will introduce themselves using their pronouns (they, she, he, etc.) and will invite all participants to do the same. OMSI's goal is for every student to have an opportunity to be true to themselves.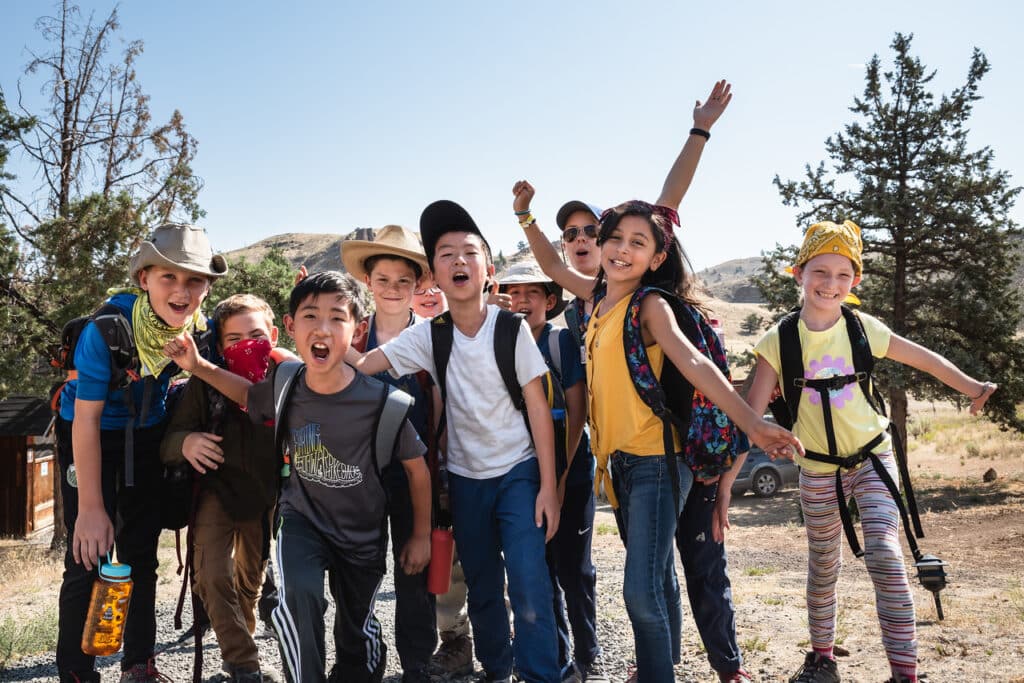 Outdoor School FAQ
We are eager to answer your questions! Below are a few questions that we get asked a lot. If there's something you want to know that isn't here, please contact us.
Campers and staff alike love the food here. We serve family-style meals and everyone may sit at the table of their choice. Meals are typically served and eaten in Berrie Hall. The main dish is passed around the table, encouraging healthy eating habits, and a supplementary side table buffet is available at breakfast and dinner. 
Because we are science and conservation-minded, we are cognizant of the incredible resources needed for food production, transport, preparation, and storage. We get to experiment with our food waste in a fun way. After every meal, we weigh and track any food waste. It is known as "ort", and The Ort Report is often a highlight of the meal (close second to dessert, of course).
Our talented kitchen staff provide nutritious, balanced meals, with enough options for everyone.
Can you accommodate dietary preferences & food allergies?
We are able to provide for most dietary preferences, including vegan, vegetarian, gluten-free, and dairy free. When possible, we create variations on the main meal, like gluten free pasta or vegetarian sausage. Whether our specialty meals correspond to the main offering or not, we make sure that there is a healthy and delicious option for all.
We will accommodate all food allergies and food-related conditions, including but not limited to: lactose intolerance, celiac/wheat/gluten allergies, nut allergies, diabetic diets, and low-sodium diets. We pride ourselves on meal service and do our best to avoid cross-contamination. We cannot guarantee that trace allergens are not present, and we're open to inquiries and problem-solving in advance whenever necessary. Please call us to discuss your food concerns, and we will be happy to help ease any worries.
We do not cook with, or serve nuts at our facility.  The exception is peanut butter, as it is usually an option for sandwiches at lunch time. If an allergy is severe enough, we can keep the peanut butter put away and it will not be an option for lunch (upon specific request by the group leader).
If you have a specific dietary need or need to have comforts from home, you may bring your own food. We will ask that all food is stored in our dining hall, Berrie Hall, in the refrigerator or other closed bin. We do not allow food to be taken into the cabins so that we can keep pests out of them. If you bring any supplemental snacks or food, please make sure it is labeled. You will have access to it whenever you need.
Which cabin will I be in, and what restroom can I use?
Those who identify as male will be in male cabins and those who identify as female will be in female cabins. Students that do not identify within the gender binary will be placed with male or female cabins according to their comfort, or as assigned by their teacher, group leader, or parent/guardian. Everyone may use facilities corresponding with their gender identity as expressed or to have access to a private or single-use facility. We have private, single-use restrooms and showers available.
Visiting for a different program?