The Coastal Discovery Center at Camp Gray, located in the inspiring science hub of Newport, Oregon, is the home of our longstanding coastal education programs. Nestled between the expansive dunes of South Beach and Yaquina Bay, there are numerous opportunities to explore the wide range of ecosystems on the Oregon Coast. On a walk straight from the cabin door to the beach, students can investigate the connections between ocean currents, geology, and ecological adaptation to better understand the web of life that depends on our one worldwide ocean.
OMSI Outdoor School is specifically designed for students in grades 4 through 8, but participants of all grade levels are welcome.
Interested in OMSI Outdoor School in the desert? Learn more about Camp Hancock.
Outdoor School for All
Our Philosophy
We believe everyone deserves the chance to be outdoors and learn new things in an inclusive way. OMSI Outdoors is commited working internally and with external partners make the changes needed to our site and program outdoor school is for everyone.
Financial Access
OMSI is committed to making science-fueled fun available for all in our community. Please inquire about our financial assistance programs for school and community programs. Please also explore the link below to Oregon State University Extension Outdoor Service School program for information about accessing state funding for outdoor school.
Accessibility at Camp Gray
Our goal is to provide a safe and inclusive program for everyone. Support can range from adaptive gear such as an all-terrain or beach access wheelchairs or personnel such as an ASL translator. We work with school districts and the OSU Extension Service Outdoor School Program to support full participation in our programs.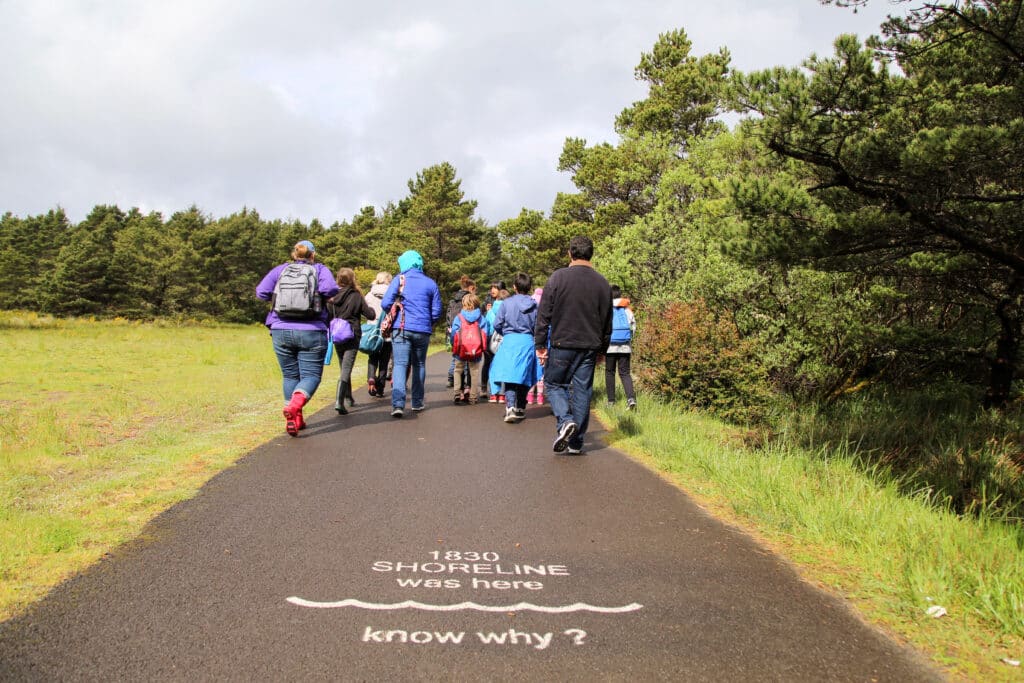 Program Highlights
OMSI program staff will work with you to create an experience tailored to your students' interests and your teaching goals.
Designed for 4th-8th Grades
Select from more than 20 different programs to design a unique outdoor experience for your students.
NGSS Standards Aligned
OMSI supports educators with NGSS requirements by providing corresponding programming for their students.
Small Group Instruction
Students are led by professional OMSI educators, in small groups of 15.
Access to South Beach State Park
From the steps of the cabins, the edge of the Pacific Ocean is a short hike away.
Modern Facilities
Cabins have electricity and heat, comfortable mattresses, and accessible restrooms nearby.
Delicious Home-Cooked Meals
Served buffet-style, we provide nutritious, balanced meals with options for everyone.
FAQ
Do you have cell phone reception and WiFi?
Camp Gray has cell service and Wi-Fi is available to adults and OMSI staff. We encourage participants to forego internet and cellphone usage during programs and meals to support the learning environment. 
Should I let my students have their phones?
They may *think* they cannot survive without, however, they should not have their phones at outdoor school. An important part of the outdoor school experience is for each student to gain confidence and independence, connect with their peers, and enjoy the unique opportunities we offer without technological distractions. Digital and film cameras are encouraged, and we urge families to not send anything they cannot replace. Many schools appoint a couple adults as the "official" photographers so that everyone else can enjoy the program in the moment. 
Will our group have the facility to ourselves?
The capacity of Camp Gray is 96 people. Depending on the size of your group, there may be another group scheduled at the same time. The groups will largely operate independently, sharing meal-times, some restrooms, and occasional evening programs.
What's a typical day like?
Days are packed full, from Field Study after breakfast to an Evening Program and Campfire after dinner. Students get hands-on experience with the science concepts of your choice, as well as the memories of exploring with their peers and their parents in the outdoors. Field Study lessons explore broad topics and Interest Group activities are shorter and designed to focus on a single topic. Peppered throughout the day, there is time for rest and relaxation in cabins, and free-play recreation time. Students will also contribute to the community's needs by rotating through Kitchen Party (setting up and cleaning up meals) and Scrub Club (a quick tidy of the restrooms).
What are the cabins like?
Each cabin has comfortable twin mattresses and provides a home away from home for all participants to sleep, rest, and make new friends. Each bunk room has 8 beds as well as heat and outlets. Open one or two of the pocket door to connect the rooms for a total of 16 or 24 beds in one space. A covered porch connects the bathrooms to the bunk rooms.
Do the teachers need to stay in the cabins with the students?
There should always be supervision in the cabins when the students are in them.  Group leaders are asked to find the chaperones for the cabins. Typically they parents from the school's community, but some schools chose high school chaperones or school staff instead.  There are small group leader rooms next to the bunk rooms for teachers, principals and bus drivers.
Can you accommodate vegan diets and food allergies? Can parents send food?
Absolutely! Working from information provided by outdoor school group leaders, we build menus to meet all food needs. Typically, we create variations on the main meal cooking gluten-free pasta or vegetarian sausage to provide a similar meal for our vegetarian, vegan, gluten-free, and dairy-free participants.
Our kitchen is not allergen free, but we clean and sanitize all surfaces and kitchen equipment to avoid cross-contamination.  We're open to inquiries and problem-solving in advance.  Parents can also send foods to supplement if they would like. We have a refrigerator and microwave available in the dining hall, and participants will have access to their food at all times.
Should students bring money for the camp store?
Everyone will receive a free OMSI t-shirt on the final evening of their program. There is no camp store, so students don't need to bring any money.
What happens in case of emergency?
OMSI staff will go over emergency procedures with the groups on arrival day. Since the students are the responsibility of the school, one designated adult (usually the group leader) will need to be the person in charge of medications and all healthcare/emergency decisions. OMSI staff are trained in first aid and CPR, and are available to help in an advisory capacity. Groups should bring at least one vehicle with them for the duration of the program, and a land line is available in case of emergency.
What happens in case of an earthquake and tsunami?
Camp Gray is located in the earthquake and tsunami hazard zone of the Oregon Coast. On arrival day, OMSI staff will lead a walk up to our local vertical evacuation point to practice evacuation and share how the community is working to be prepared.
Booking + Planning
Step 1: Book with Registration
Secure your dates and sign your contract with the OMSI Registration team.
Step 2: Select your program offerings
Once the contracts and deposits are submitted, the program supervisor will email the primary contact at least 8 weeks before arrival (early September dates are the exception) to start the planning process.
Step 3: Finalize logistics
Two weeks before arrival, the final details are confirmed. They include logisitcs like cabin assignments, group lists, and food notes.
Need Help Planning?
We know what it takes to coordinate groups of students—we've been doing it for years. Contact us to find answers and resources for painless planning.