Come and be part of something special!
The Oregon Museum of Science and Industry (OMSI) operates one of the largest museum-based outdoor education programs in the country. Join the Outdoor Education Team at one of our two camps: The stunning Oregon coast in Newport, OR or the extraordinary John Day Fossil Beds National Monument near Fossil, OR. We live, work, and play all over the state!
Highlights include onsite housing and food, a nine-month season, health benefits, paid time off, OMSI membership, and professional development opportunities. We're building life-long friendships, unforgettable experiences, and developing important skills.
We operate a nine-month season, in three segments:
Spring Outdoor School (February- June)

Summer Science Camp (June – August)

Fall Outdoor School (September – October)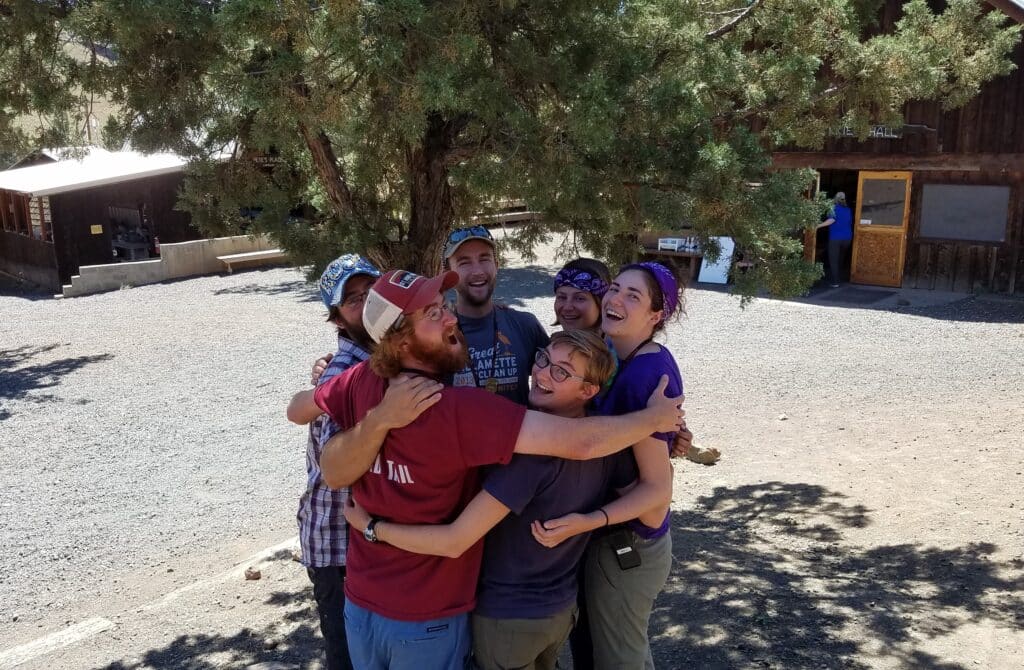 OMSI respects, values and celebrates the unique attributes, characteristics and perspectives that make each person who they are. We believe that we will be successful in accomplishing our mission and vision when we seek out and respond to diversity of participation, thought and action.
We will work to dismantle barriers to equity and access to the experiences OMSI provides and to create welcoming environments and conditions where all people can reach their full potential. We lead with race.
OMSI Core Values: Learning, Creativity, Integrity, Sustainability
Certifications and Training
The last two weeks of February are dedicated time for cook and instructor training. Summer training for camp counselors usually falls on the third week of June. Training and certifications are different for each position. In general, trainings are paid and certification courses are not.
Camp Cooks need an Oregon Food Handler Card

Instructors and Supervisors need a Wilderness First Responder certification, a Class B Commercial Driver License, and an Oregon Food Handler Card.

Camp Hancock hosts a Wilderness First Responder certification each year. Staff will receive a discount on the class.

Camp Gray hosts a Class B Commercial Driver License class each year. OMSI will reimburse fees upon completion of the license.

Camp Counselors need Adult and Pediatric First Aid & CPR, and an Oregon Food Handler Card
It's an ideal place to study geology and paleontology. The nearby volcanic and sedimentary rocks reveal the story of life from the time the dinosaurs disappeared 66 million years ago to the beginning of the Pleistocene ice age 2 million years ago. The fossil record unlocks the evolutionary paths of plants and animals, as well as the geologic history of Oregon.
The camp also offers an ideal setting in which to study many other fields of natural science. The juniper-sage grassland steppe provides a model location to study arid ecology. When driving east over the Cascade Mountains, you can see first-hand the impact the rain shadow effect has on the landscape. Clear night skies offer a great opportunity to study astronomy without the interference of city lights. The area is also rich in cultural history; Native American pictographs and homesteads built by European settlers can be investigated on nearby hikes.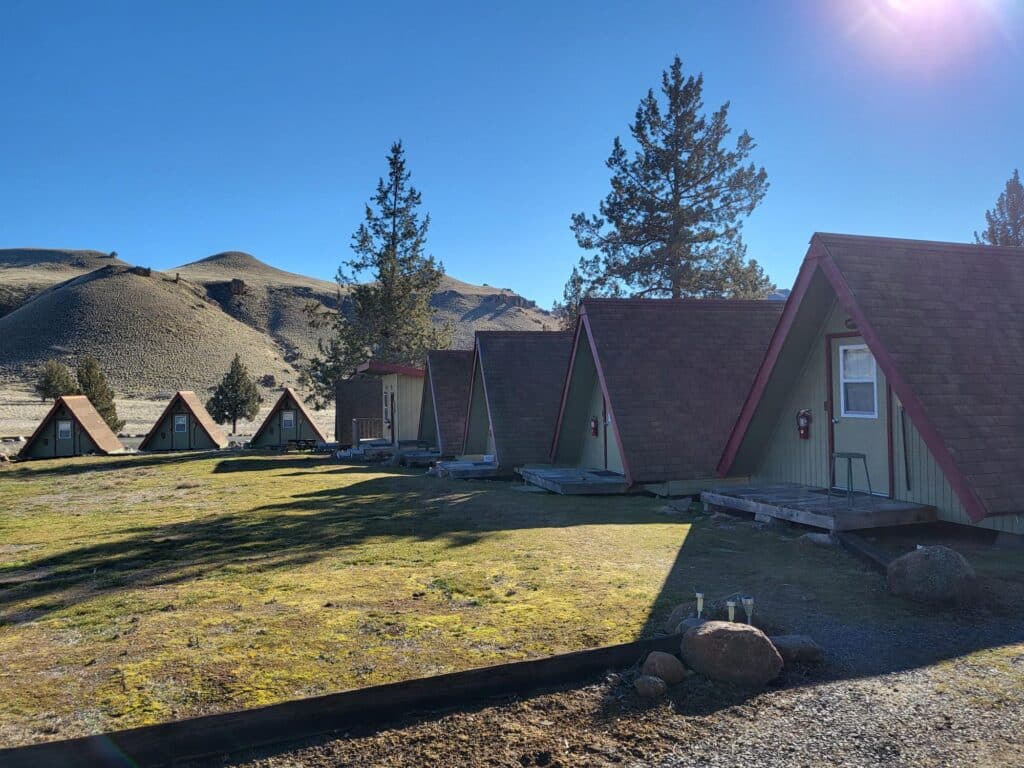 Private Housing
Instructors, Cooks, and Program Supervisors are assigned a small, one room A-frame cabin for the season. The cabins are equipped with electricity, heat, a twin-sized bed, a small desk and chair, and storage closets.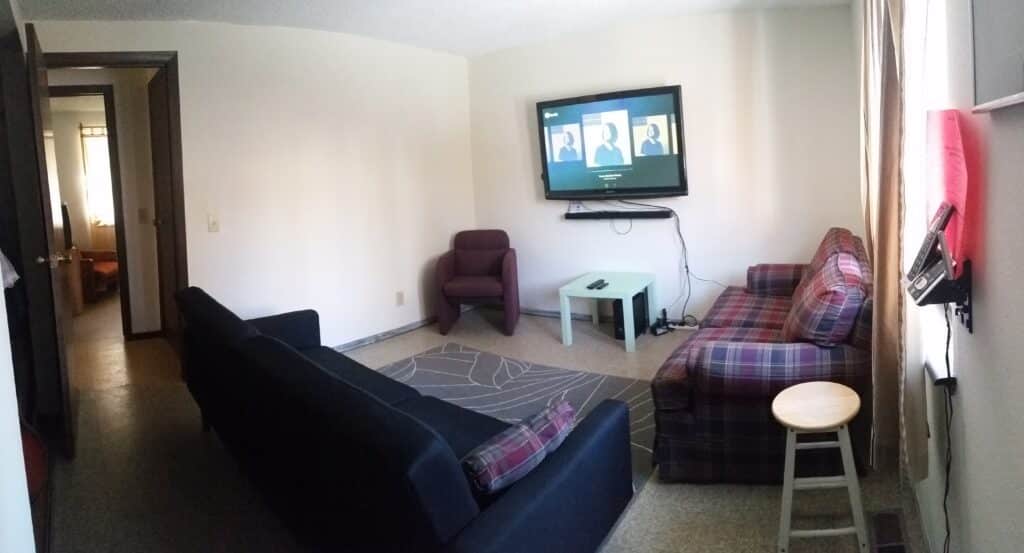 Staff House Media Room
A short walk from the cabins is a shared staff house.  A converted three-bedroom house is where the bathrooms, showers, kitchen, living room, laundry, games, media, and other amenities live.  The staff house is fully furnished.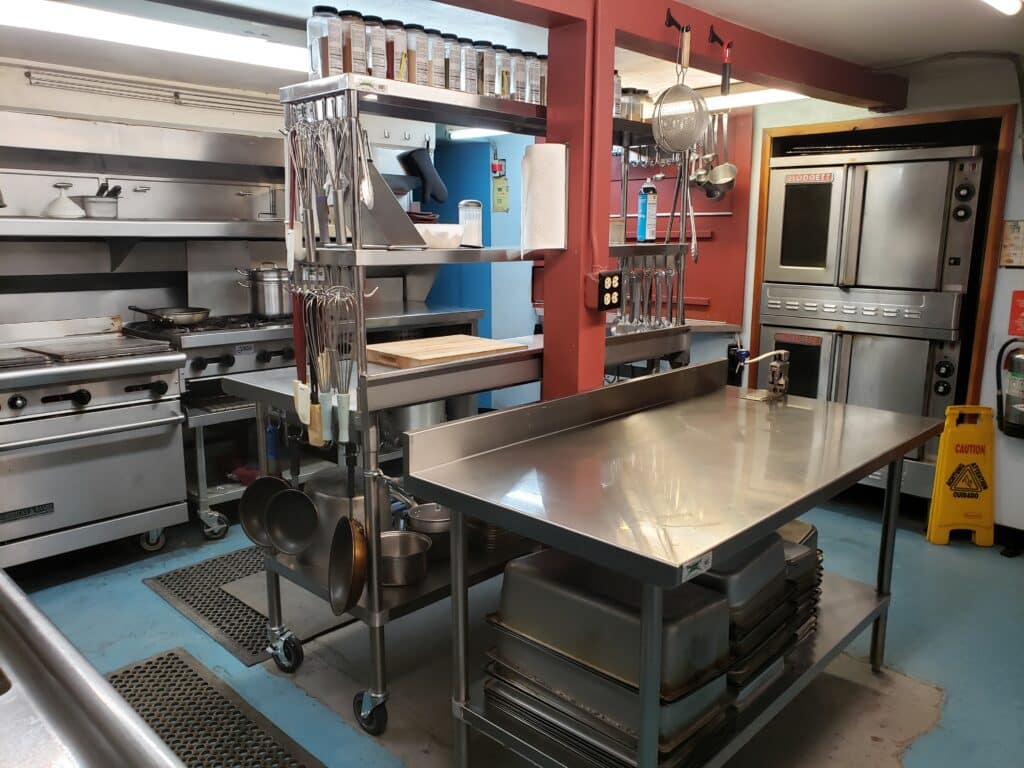 Hancock Kitchen
This charming little kitchen has all that you need to cook for large groups. Walk-in cooler and freezers, convection ovens, flat top griddle, range top, mixer, and a three-step sink.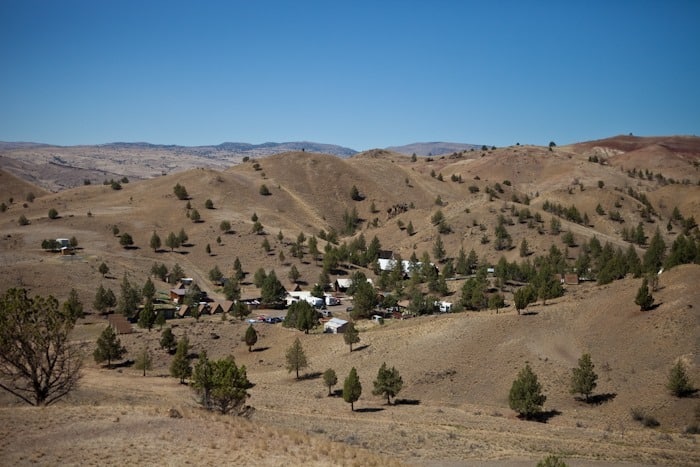 What To Do on the Weekends
Beautiful hiking trails surround Hancock.  There's camping by the John Day River, and if you need to head to town, Fossil is 3o minutes, and Madras, Redmond, and Bend are 1-2 hours away.
Nestled between Yaquina Bay and the expansive dunes of South Beach State Park, Camp Gray is surrounded by world-class coastal locations and a diverse economy. There are numerous opportunities to explore the interactions between the ocean, the climate, and human culture while walking the trails. The Oregon coast is a dynamic location and every day brings something new. Instructors swap stories about seeing osprey and pelicans hunt for fish, watching seals and sea lions bobbing in the water, and spotting colorful anemones and sea stars clinging to rocks. Yaquina Bay has supported people since time immemorial and we honor that legacy by learning local history and the current sustainable efforts to protect the land and water in and around Camp Gray.
Since Camp Gray is in a tsunami hazard zone, we live by the motto, "be prepared, not scared." Each program starts with an emergency talk and a walk along the local evacuation route to our nearest high point, Safe Haven Hill. To learn more about earthquakes, tsunamis, and community preparation, visit our neighbor and partner in community emergency management, Hatfield Marine Science Center.
Private Rooms
Bedrooms in the staff house come with twin beds, a desk and storage. To build our intentional community, each week the house will meet to chat and talk about the house.
Kitchen and Living Room
The staff house has a kitchen, full bathrooms, laundry, and wi-fi. A TV also hang on the wall for weekend movie nights. Camp Gray is close enough to town to receive cell phone reception.
Camp Gray Kitchen
The kitchen has all that you need to cook for large groups. Walk-in cooler and freezers, convection ovens, flat top griddles, range top, mixers, sinks and dishwasher.
What To Do on the Weekends
There's a lot to do and explore on the Oregon Coast, from hiking and surfing to tide pooling and farmers markets.  Grocery stores, restaurants and fitness gyms are all nearby. Also, Corvallis, Eugene and Portland are within a day's drive.