Lots of Learning, Lots of Fun!
OMSI wants to help you explore the connections between the big wide world and our individual impacts. Come through the doors and find hundreds of exciting hands-on exhibits, labs where you can put on your goggles and do real science, playgrounds dedicated to the littlest scientists, halls for families to problem solve together, and spaces where only teens can enter!
Tuesday – Friday: 9:30 am to 5:30 pm
Saturday: 9:30 am to 7:00 pm
Sunday: 9:30 am to 5:30 pm
Exclusive Member Hours
Join us for early museum access every Wednesday starting at 9am! OMSI members can enjoy extra time to explore Science Playground, Turbine Hall, Orcas: Our Shared Future, and Staying Alive: Defenses of the Animal Kingdom. We can't wait to see you!
Tuesday – Sunday: 11 am to 3 pm*
*Dec 16 – Jan 1, visit Theory during its extended hours from 11 am to 5 pm.
Museum Admission
We are excited to welcome visitors to our Turbine Hall, reimagined Science Playground, and Natural Sciences Hall.
Adult (14+) $19.00
Senior (63+) $16.00
Youth (3-13) $14.00
Infant (Under 3 years) Free
Ticket reservations required for all ages.
Enhance your visit with specialty shows and tours.
Submarine Tours
Get a sneak peek into the life on a real submarine.
Ages 3 and Up $8.50

Members:
Ages 3 and Up $7.50
Visitors must be 3 and older  to access the submarine for safety reasons.
Planetarium Shows
See the universe like never before in the Pacific Northwest's premier planetarium.
Ages 3 and Up $7.50

Members:
Ages 3 and Up $6.50
Theater Shows
Big movies, giant screen. Documentaries and Hollywood favorites playing everyday.
Adult (14+) $8.00
Youth (3-13) $6.50
Senior (63+) $7.00

Members:
Adult (14+) $7.00
Youth (3-13) $5.50
Senior (63+) $6.00
Become an OMSI Member
OMSI members not only receive free general admission, they also enjoy discounted admission to our featured exhibits and other OMSI experiences and events.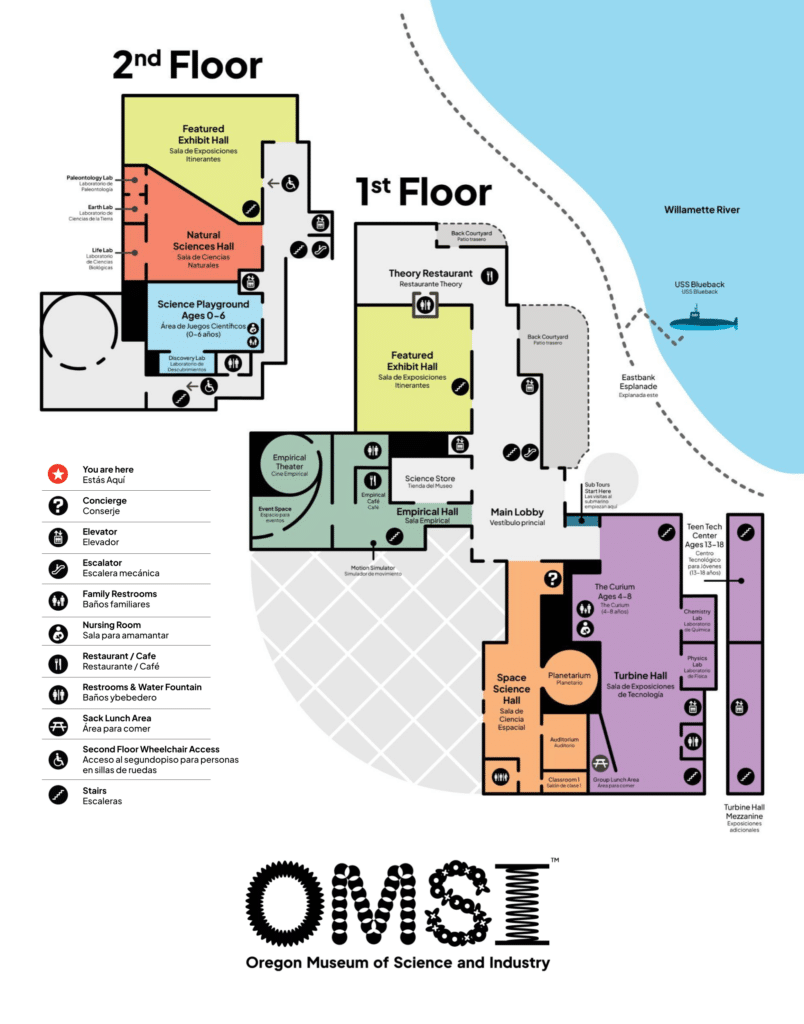 Getting Here
Driving Directions + Parking
OMSI is located at 1945 SE Water Ave Portland, OR 97214. Visitors can pay for parking through the Parking Kitty app (as of 7/24/23) or at the parking kiosks in the North and South parking lots.
OMSI parking costs  $5 (+ fees) for 2 hours or  $8 (+ fees) for all day parking.  Guests arriving at 5pm or later can expect to pay a flat fee of $2 (+ fees) for the evening.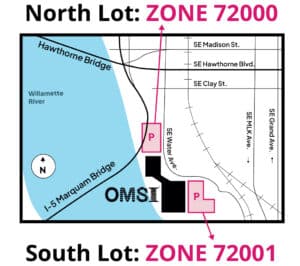 The OMSI  / SE Water Ave station connects with MAX, bus, and Portland Streetcar lines.
Explore schedules and maps:
Dine + Shop
Theory + Empirical Café
Looking for a quick bite? Theory restaurant is now open between 11:00am – 3:00pm. The Empirical Café is open during museum hours or before catching a film.
OMSI Science Store
Check out the OMSI Science Store to find unique gifts for science enthusiasts of all ages.
The Oregon Museum of Science and Industry is committed to fostering safe, inclusive, and welcoming environments for all staff, volunteers, museum visitors, and program participants.
We are committed to ensuring that all OMSI experiences and spaces are free from harassment, discrimination, and threatening or disrespectful behavior of any kind. Anyone who engages in such conduct either on or off site will have their access revoked without notice or refund. If you have experienced or observed any violations of this agreement, or have any concerns, please alert a member of our staff immediately or contact Grant Vondrachek, OMSI's Safety, Health and Security Manager, at 503-797-4625 or gvondrachek@omsi.edu.
By attending OMSI experiences at the museum or in any location, you are agreeing to comply with this Visitation Agreement. We appreciate your participation in creating a welcoming and safe environment for all.
OMSI For All
OMSI is committed to making science-fueled fun available for all in our community. We are proud to offer admission assistance, financial aid, and accessible services throughout the museum. Explore access resources and amenities for guests visiting the museum.
School + Community Programs
Looking to organize your next field trip? Want to partner with us for science programming?