The Coastal Discovery Center at Camp Gray opened in 2016 to be the home for OMSI's longstanding coastal programs. On a walk straight from the cabin door to the beach, we investigate the connections between the ocean, the climate, geology, and ecology.
OMSI respects, values and celebrates the unique attributes, characteristics and perspectives that make each person who they are. We believe that we will be successful in accomplishing our mission and vision when we seek out and respond to diversity of participation, thought and action. We will work to dismantle barriers to equity and access to the experiences OMSI provides and to create welcoming environments and conditions where all people can reach their full potential. We lead with race.
With open hearts and open minds, we respect, value, and celebrate all the things that make each person who they are. We don't want anyone to feel left out or like they don't belong. We strive to make this place a place where you can be you; a place where you don't have to be anyone else. No judgment here – it's our job to make certain everyone feels safe and empowered to be themselves.
We are proud to be working with TransActive in Portland, Empowering Access out of Bend, and many others to improve our facility and continue to provide more physical access and mobility around camp. We provide training and professional development to our staff on equity and inclusion principles, as well as training in mental health first aid.
Admittedly, we have a long way to go! We are always open to learning more, doing more, listening better, finding creative solutions to problems, and creating meaningful change. We aim to go beyond ADA compliance to ensure access for everyone.
Can you accommodate non-binary, non-gender conforming, trans, and other LGBTQ youth?
Yes! We can, and we have successfully done so. 
As is traditional in residential overnight camps, our site was designed to accommodate binary gender divisions in our living, restroom, and shower facilities. We realize our existing sleeping and hygiene areas present obstacles for the gender diverse and we are committed to respectfully minimizing those obstacles. Since each individual is different and has different needs, we encourage you to reach out if you have any specific questions or concerns. We appreciate any opportunity to speak directly with families about how we can work together to make the OMSI summer camp experience worry-free for everyone regardless of orientation, gender, or any other identity.
Is the facility wheelchair accessible? Are the local trails?
Camp Gray is a flat site with ADA-accessible cabins, bunks, and bathroom facilities. Offsite trails are a mix of asphalt, dirt path, and open sand. Working with group leaders and families, we'll design a program to meet the needs of all participants. And, since our program focus on concepts and student explorations and curiosities, any trail chosen will be a rich experience for everyone.
Do you have a quiet room on site?
There are a couple options for a quiet room for those who need privacy for a short period of time. Depending on the enrollment of the week, an empty bunk room, or group leader room can be a designated quiet space. Be it to take a breather from the noise of a meal or program, or privacy for a health check, we can find a safe space to resetting and grounding.
Can I bring an animal to Camp Gray?
Camp Gray is not a place for pets. Service animals are permitted in all areas where guests are allowed. In keeping with the Americans with Disabilities Act, a service animal is defined as a dog that is trained to do work or perform tasks for the benefit of an individual with a disability (providing emotional support or deterring crime are not considered qualifying tasks). Except under special conditions, service animals must be restrained while at Camp Gray.
The Land Where We Live, Work + Play
Let us remember, honor, and acknowledge the spiritual connection Indigenous people have to the land and how historically their traditional knowledge has been excluded from the scientific community that OMSI participates in and contributes to.
Camp Gray occupies the traditional homelands of the Alsea, Siuslaw , Siletz and many others (federally recognized or not); all of these Tribes were removed from their lands and many are now part of the Confederated Tribes of Siletz Indians.
Camp Tour
Community Living
Cabin life is essential to any memorable camp experience! The left side of the building mirrors the right side. In each half of the building, three rooms are bunk rooms, and one is a group leader room.
Meyer Hall
Breakfast and dinner are eaten buffet style with each camper choosing where they want to sit. Lunch is packed in the morning before going out for the day's adventures. Meyer Hall is also used for indoor evening programs and rainy night campfires.
Cabin life
Each cabin has comfortable mattresses and provides a home away from home for all participants to sleep, rest, and make new friends. Each bunk room has 8 beds as well as heat and outlets.
Flexible bunk room sizes
Student and chaperone ratios don't always perfectly fit in one room. By open one or two of the pocket doors, the room size expands to 16 or 24 beds. We can also have cots onsite to add just one bed to a room if needed.
Teaching Porches
The porches between the cabins also function as covered teaching spaces. Depending on the weather, they might be a meeting location before heading out to the field for the lesson, or they might be the place we gather during the whole lesson.
Cabin bathrooms
A covered porch connects the bathrooms to the bunk rooms. There are two bathrooms in each building, one for each side. Each bathroom has 3 showers, 2 toilets and 3 sinks. Everyone will rotate through "scrub club" to support the cleanliness of the community space.
A history of coastal camps
Since the 1960s OMSI has been running programs up and down the Pacific Northwest Coast.
Ribbon Cutting Ceremony
Camp Gray officially opened in March of 2016 surrounded by new and old friends. True to coastal spring weather, it rained, so everyone was happy to be warm and dry inside the dining hall.
We've Come a Long Way
Since moving to Newport we've grown a lot – both in landscaping and learning how to run the best program for the surrounding land and water.
A History of Travel
The coastal summer camps started in the 1960s with trips to Cape Arago. By 2015, OMSI summer camps ranged from the coastal redwoods to the San Juan Islands.
A Lineage of Locations
Camp Gray became our permanent home in 2016. Before then we rented a other camp properties in Oregon to run our outdoor science school.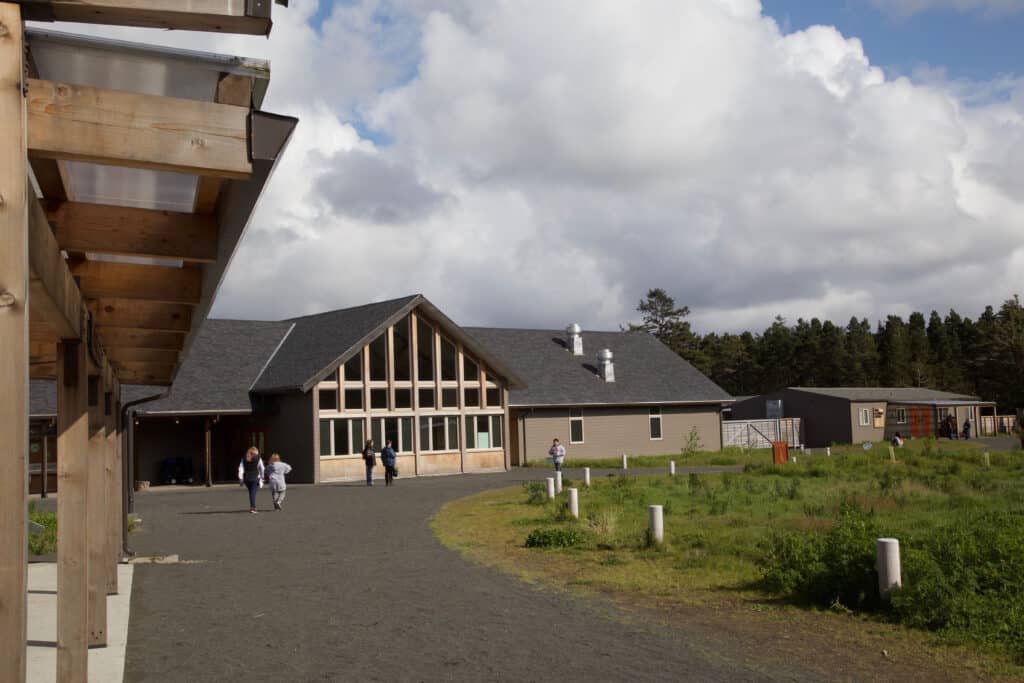 Interested in renting Camp Gray? Rent the dining hall for a meeting, a cabin for a night, or the whole facility for a conference. Contact us at Register@OMSI.edu to talk about availability and pricing.
Looking for fossils and stars? Check out our other camp for more outdoor school and summer camp opportunities!