At OMSI, pay impartiality is crucial to our equity journey. Our pay is advertised with a single number to promote internal parity and transparency. We are committed to the upkeep of a competitive compensation program.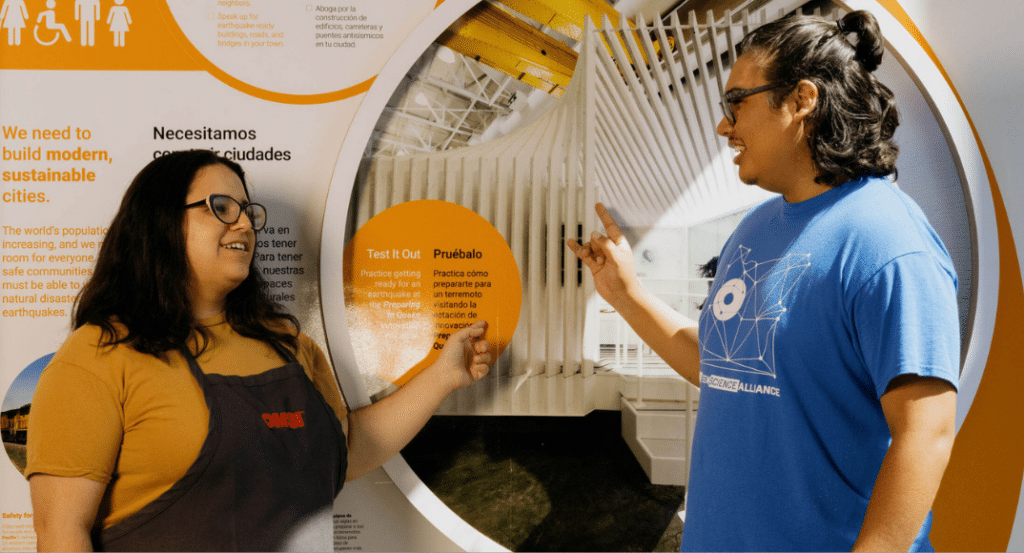 Benefits
We are proud to offer a comprehensive benefits program for eligible staff. OMSI's benefit plans are designed to offer you flexibility and choice. You can tailor your benefits to meet your individual needs. Among the tangible and intangible benefits you will find:
Health and Dental Insurance
Eligible employees can choose from multiple health plans (both HMO and PPO) and two dental health plans with OMSI paying 86% of employee-only premiums. Dependent premiums are subsidized by 70%.
Vacation Time PTO (based on years employed)
Eligible employees accrue 2 weeks per year during their first two years of employment, and gain an  additional week at years 3, 6, and 10.
This benefit is pro-rated for regular, part-time employees. Unused hours carry over year to year, up to 200 hours.
Personal / Cultural Days PTO
OMSI recognizes that many holidays in the US are Eurocentric / Christian-focused and do not  necessarily reflect the diversity of celebrations amongst our staff. This benefit provides staff the time to celebrate / respect holidays that are meaningful to them on an individual basis, as well as take time to handle personal matters that come up throughout the year.
Eligible employees receive 12 Personal / Cultural days.
This benefit is pro-rated for regular, part-time employees.
OMSI's Wellness Time is a reflection of—and part of a larger strategy—towards our continual goal of destigmatizing mental health and providing space for our employees to care for their whole-being.
2 weeks per year, with carry-over of unused hours (up to 520 hours).
403(b) retirement with employer match eligibility.
Flexible Spending Accounts (FSAs)
Eligible employees can choose to enroll in a Health Care FSA and/or Dependent Care FSA, which allows you to set aside pre-tax dollars to pay for eligible health and dependent care expenses.
Eligible employees can choose to enroll in a Qualified Transportation Account (QTA), which allows you to set aside pre-tax dollars used for eligible transit and parking expenses related to work commute.
Eligible employees receive 100% employer paid Basic Life and Basic Accidental Death and Dismemberment (AD&D) insurance, with the option to buy supplemental coverage.
Eligible employees are automatically enrolled in both Short Term Disability (STD) and Long Term Disability (LTD) coverage at no cost to them.
Eligible employees receive 15 paid days per year for the death of a person(s) considered a family member, miscarriage, and/or failed fertility treatment.
This benefit is pro-rated for regular, part-time employees.
Free annual OMSI Family Membership ($140 value).

The Reciprocal Employee Attraction Pass (REAP) gives you access to more than 25 cultural attractions around Oregon and Washington.

The ASTC Passport Program includes free general admission at participating science centers and museums outside of your local area (90-mile radius from OMSI / your residence). 

Inclusion-centered professional development opportunities.

Employee-led rewards and recognition program.

50% employee discounts on summer programs for employee's children.

20% employee discount at OMSI's Theory Restaurant and Empirical Café.

15% employee discount at OMSI's Science Store.
Featured Positions
Digital Marketing Manager
Website Administrator
Use your digital magic to help elevate the Pacific Northwest's premier science museum. Learn more about our open positions.