Inspire curiosity, stimulate informed action
At OMSI, we believe science communication is a conversation, where all kinds of experts and learners belong. Our Science Communication programs and services are designed to help STEAM professionals connect with real-world audiences in ways that inspire curiosity, encourage the exchange of ideas, and stimulate informed action.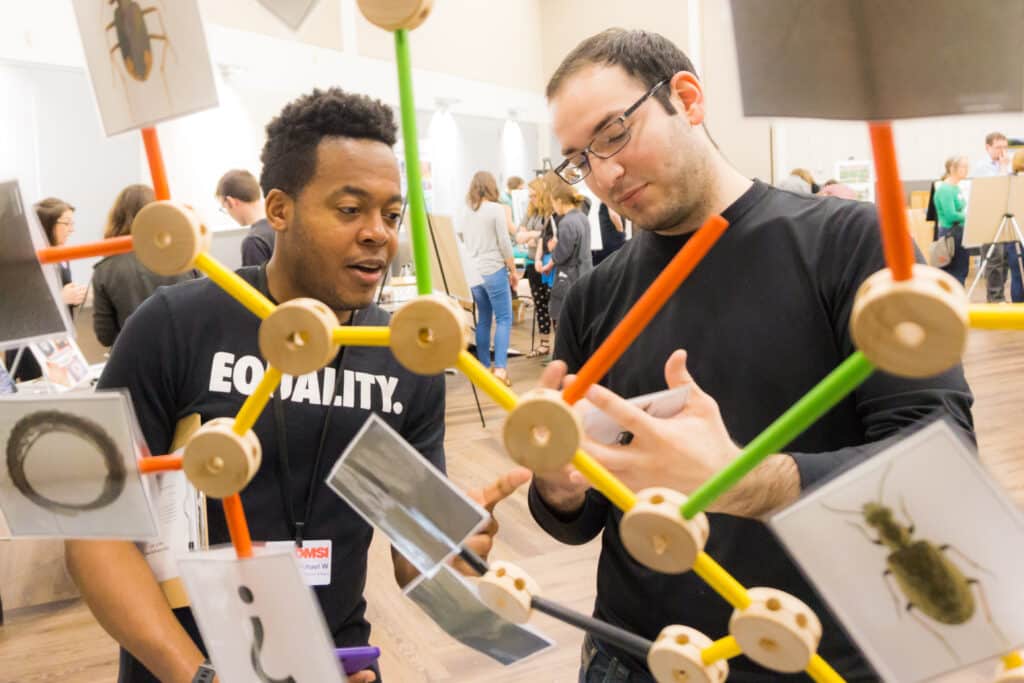 A community of STEAM professionals, committed to public engagement with science.
Expand your communication skills and broaden the impact of your work! Through a series of four workshops, OMSI SciComm Fellows learn and practice skills for clear, engaging, and reciprocal communication. Each fellow then develops a hands-on activity inspired by their own work and shares it with the public, via Meet a Scientist and other events.
Who are OMSI SciComm Fellows?
OMSI SciComm Fellows include researchers, educators, engineers, artists and other STEAM professionals working in  academia, industry, nonprofits, or the public sector. Fellows are experts in a broad range of topics, from atmospheric science to adolescent development; from public health to product design. We welcome physical scientists and social scientists, as well as researchers and practitioners who combine science with art and other forms of inquiry.
Professional and personal development: build skills and confidence to effectively communicate your science 

Ongoing opportunities to engage with museum visitors and communities around the state

Regular networking opportunities with other STEAM professionals committed to SciComm

OMSI membership

Official OMSI Science Communication Fellowship certificate of completion and letters of acknowledgment as needed
Participate in OMSI's Science Communication "Short Course," a series of four professional development workshops focused on building skills to effectively communicate with public audiences. (Workshops are 3–4 hours each, spaced over 3–4 months.)

Collaborate with OMSI staff to develop a unique, hands-on activity inspired by your work in STEAM

Participate in a minimum of three public programs a year. Most Fellows participate in Meet a Scientist, a public program held at OMSI on the second and fourth Saturdays of each month, though other opportunities exist as well.
Application and Tuition Information
Cohorts are offered 2-3 times per year. For dates and other information for the upcoming cohort, apply now.

There is a $2000 tuition fee. Scholarships are available. Many fellows support their participation through grants, professional development funds, or similar; we are happy to support your efforts to identify and secure funding.

Questions? Contact

scicomm@omsi.edu
Real-world impacts for your complex research.
Collaborate with OMSI to create customized plans for broader impacts, education or outreach, as part of your competitive research proposal to NSF or other funders.
Collaboration Possibilities
Plan for one or multiple members of your research team to participate in OMSI's SciComm Fellowship
Co-create a customized class on the topic of your research for our OMSI educators to teach locally, at our Coastal or Desert Camps, or for our Outreach team to take on the road throughout the Pacific Northwest.
Co-create a customized public program, such as a forum, that engages key audiences in discovery, discussion, or decision-making related to your research topic.
Develop a tabletop exhibit or display on your area of research, to be facilitated at the museum by our educators for OMSI visitors.
Work with the OMSI evaluation team to evaluate and prepare an in-depth report on the effectiveness of your broader impact activities.
Contact scicomm@omsi.edu for further information.
Please keep in mind we will need 3-6 weeks to prepare a full Broader Impacts plan and accompanying materials.
Dynamic and impactful workshops, customized to meet your needs.
Work with OMSI staff to design a virtual or in-person learning experience that engages groups of professionals in hands-on and reflective activities related to science communication.
Learn about and practice specific strategies for effective science communication (e.g. using analogies, frames, inquiry-based questions, or inclusive language).

Explore strategies for communicating controversial topics, such as climate change.

Develop shared messages, frames, and approaches that can be used by a team of STEAM professionals.
Both virtual and in-person options are available.
OMSI staff can travel to facilitate the workshop at your location or you can hold it on the OMSI campus. Travel fees may apply outside the Portland Metro area.
Generally, sessions are 2-3 hours in length. Workshops can be designed as stand-alone experiences, or strung together in a multi-part series.
Workshops can be designed to serve anywhere from 10 – 100 participants (12-25 is optimal).
Costs begin at $1,500 for a 2-3 hour workshop, serving up to 25 participants.
Contact scicomm@omsi.edu for further information.