Activity: Try creative ways to reach others.
How has the pandemic changed your sense of community? Who do you connect with? How did the pandemic make some people more isolated? During the COVID-19 pandemic, we learned to create community in different ways.
Before emails, cellphones, social media, or radio, people used to communicate with each other by writing letters and sending them in the mail.
Technology has made delivering messages faster, easier, and more accessible, but there's still something special about receiving a handwritten message. Interested in reintroducing this concept to your family? Remember pen pals? Now more than ever, our children could use alternatives to technology that still encourage social connections.
Finding a Pen Pal
Write to Family
How do you let your loved ones know that you're thinking about them? Do you visit, call, send them a text or email? Another special way to let someone know you're thinking about them is coloring a picture or writing them a special letter. They'll be able to hang your special artwork where ever they are.
Send a Postcard
Postcards are the easiest souvenir to buy and people often keep them. Whether you're traveling or at your local store, sending your loved one a personal "wish you were here" is a thoughtful idea.
Write to NASA
Every kid loves getting something addressed to them in the mail, but what if they received correspondence from a real astronaut? Thanks to NASA's pen pal program, they can write and receive answers from real, live astronauts.
For Educators: PenPal Schools
PenPal Schools connects students from 150 countries to make friends and discover the world.
For Educators: Letter Writing
The USPS Pen Pal Project will provide 25,000 classrooms across the country the opportunity to partner with matched classes to write 1 million letters with the goal of building friendships and understanding diverse perspectives. By participating in the program, students will improve their writing, communication, and collaboration skills.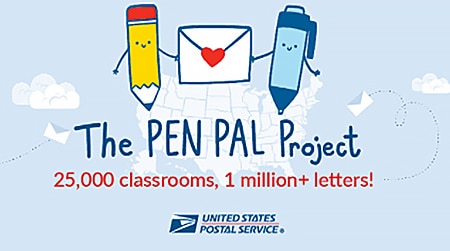 For Educators: Electronic Pen Pals/Classroom Collaboration
ePals is a website that connects K-12 classrooms in more than 99 countries to share content and ideas and collaborate on projects (including pen pal exchanges).