The Portland Business Journal
Publication date: July 19, 2022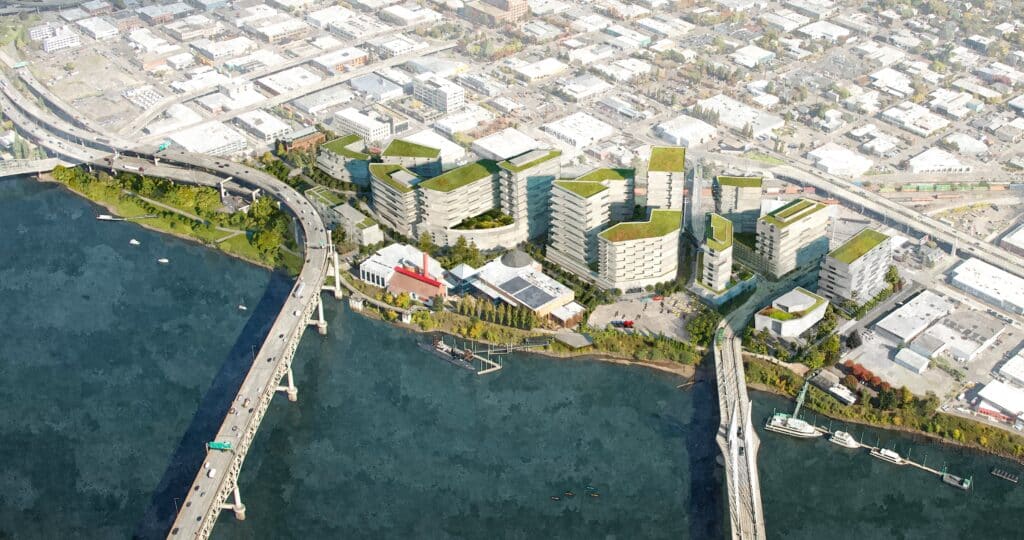 Supporters of a riverside redevelopment are trying to project strength ahead of an August public hearing before the Portland Design Commission.
Congressman Earl Blumenauer calls the OMSI District — with up to about 4.4 million square feet of mixed uses, from science to housing — "one of Portland's most exciting developments."
Backers say the district will drive economic growth by creating jobs and generating more than $11 million annually in property tax revenues, along with $22 million a year in income taxes within the Portland metro area.
District plans are going before the Design Commission on Aug. 18 for a hearing, the next step toward getting construction crews to work.
It's during this time that OMSI will ask officials to green light the OMSI District Master Plan, a hurdle for the redevelopment to clear before it becomes a reality, according to a project spokesperson.
So on July 14, OMSI trumpeted the "broad and diverse coalition of entities" that has pledged support to the project, characterizing that cast as "likely and unlikely allies — community-based nonprofits, tribal entities, companies, associations, tourism advocates and others."
A list sent by OMSI, nearly 40 organizations deep, ranges from the Portland Business Alliance to Meyer Memorial Trust to Albina Vision Trust to Autodesk.
The groups will assist in championing the district as it marks important milestones such as the land-use hearing and comment time period, anticipated in the fall, according to OMSI. Among the boosters is Portland General Electric, whose CEO Maria Pope said in a statement, "This project will further science, engineering, and advocacy opportunities as we work together to address the challenges of climate change."
Also in a statement, James Parker, acting executive director of the Affiliated Tribes of Northwest Indians, noted, "There is a tremendous opportunity in the OMSI District to create an inclusive neighborhood. The OMSI District would be the first in the city to restore tribal presence on the Willamette."
Project documents call for as many as 1,200 new housing units with at least 20% of them being affordable housing. With the master plan area spread across about 34 acres in the Central Eastside, Portland Community College, a Center for Tribal Nations and the Portland Opera will operate alongside restaurants and businesses. There are plans for a waterfront park, too.
Seven landowners are included in the master plan area: Portland Community College, Portland Opera, OMSI, Portland General Electric, TriMet, 1800 Water Avenue Partners and the city of Portland, documents show.
The OMSI District is among the downtown sites required to complete what's called a Central City Master plan to redevelop within the bounds of the Central City 2035 plan, Portland's long-range development guide. The OMSI plan was previously talked about during a couple of Design Advice Request meetings in 2019. The college and Portland Opera respectively joined the planning process in 2020 and 2021.
In a statement, Blumenauer said, "(The district) will anchor the Central Eastside, and its proximity to transit, the waterfront and a landmark pedestrian path make it a launch point for people wanting to experience and access other parts of Portland. I am thrilled to welcome the tribal entities as full partners. Indigenous people have a powerful history and presence in our communities, enriching our efforts. I'm looking forward to celebrating the OMSI District's growth."